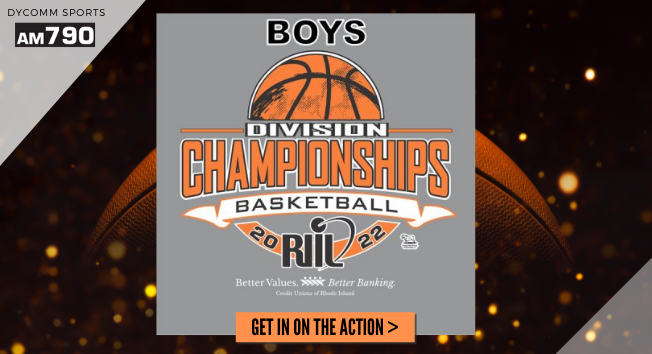 Sunday Feb 27 Boys Division Finals
Live from Rhode Island College Noon, 2:30pm and 5pm
Sunday March 6 Boys Credit Union Championship Quarterfinals
Live from Rhode Island College Noon, 2pm, 4pm and 6pm
Saturday March 12 Boys Credit Union Semi Finals
Live from Ryan Center @ URI 4pm and 6pm
Sunday March 13 Girls/Boys Credit Union Championship Final
Live from Ryan Center @URI 330 pm and 6 pm
After a two-year disruption from the COVID-19 pandemic, the traditional full post season returns!
DYCOMM Sports, a production of DYCOMM, LLC announces an eleven-game broadcast schedule agreement with the Rhode Island Interscholastic League to air on Providence, Rhode Island Cumulus Broadcasting stations promoted on WPRO (630 AM/99.7 FM) and airing on WPRV (790 AM), online at 790business.com and Alexa.
The Boys Divisional Finals on Sunday February 27th and the Credit Union Open Championship Quarterfinals on Sunday March 6th will broadcast live from Rhode Island College.
The Boys Open Semi Finals on March 12th and the Credit Union Girls/Boys Open Finals March 13th will broadcast live from the Ryan Center at the University of Rhode Island.
The 2022 postseason will be the tenth produced on the radio by DYCOMM in association with Cumulus and will be the only commercial television or radio broadcasts of the tournament creating an exclusively high statewide profile for this year's sponsors.
Dan Yorke, president of DYCOMM LLC, is acting as executive producer of the project and will handle the play-by-play with other key basketball personalities offering color commentary.